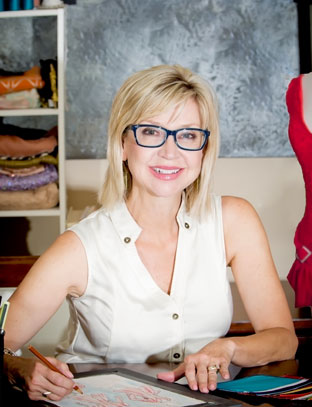 Jan
ABOUT JAN
Jan's career in fashion design has unusual roots in East Africa where she lived as a child of missionary parents.  Resources in Ethiopia were few in the 1960s and 70s, so out of necessity Jan learned to repurpose clothing on a treadle sewing machine.  When she was eleven years old she made a pair of boxer shorts cut from a pillowcase for an Ethiopian deaf man.  They were both thrilled!  Never mind it was the first pair of boxer shorts he had ever owned.  This experience with her first happy customer helped launch an exciting career in fashion design.
At age eighteen Jan moved to Springfield, Missouri where she honed her skills day and night studying clothing construction.  She was eventually recruited to design and produce couture for celebrities, entertainers and anyone taking center stage in nearby Branson.  Over the next fifteen years Branson saw phenomenal growth and became the live country music capitol of the U.S and was visited by millions each year.  Jan worked with most of the shows on the strip and was sought out by nationally known entertainers and celebrities to design and create over the top wardrobes for their appearances in the spotlight.  She traveled far and wide from New York to Los Angeles to Hong Kong seeking unique fabrics to bring her sketches to life and wow audiences.  One of Jan's designs is on display at the Smithsonian Institution in Washington D.C. as a classic example of this era of entertainment.
Jan's move to Las Vegas in 2004 brought even more exciting and challenging opportunities to design for the entertainment industry.  Her career direction was to take a turn one morning at a breakfast diner, when she noticed that the servers were wearing very unflattering uniforms that didn't work with the mood of the place.  She went to the drawing board and sketched a line of aprons that fit the character of the quaint little restaurant and her interest in designing for the hospitality industry was born.
Whether it's a small breakfast diner or a mega-casino employing thousands, Jan visualizes a business as a stage where the employee is the star of the show that comes face to face with the audience.  She skillfully coordinates wardrobes of companies to insure the presentation of all the players tie together and compliment the all important brand of the business.